24 Hour Crisis Hotline:
1-800-656-HOPE (4673)
Local: 270-846-1100
All Hope Harbor services are FREE and CONFIDENTIAL to all individuals impacted by sexual violence regardless of race, religion, color, national origin, sex, gender identity, age, disability, sexual orientation, citizenship, immigration status, marital status, familial status or language spoken. If you have been impacted by sexual violence, WE WANT TO HELP!
COVID19 UPDATE:

As COVID19 pandemic becomes more manageable through available vaccines, Hope Harbor services are transitioning back to pre-pandemic life. Counseling clients are being served via phone or video with some in-person options prioritized for children and adults with needed accommodations. Emergency advocacy is being provided in our area hospitals. Our 24/7 support hotline is still, and always will be, available:
270-846-1100
A Sexual Trauma Recovery Center
Hope Harbor's mission is to empower and support anyone impacted by sexual trauma. We are committed to our community to affect social change to eliminate all forms of sexual violence, advocate for the rights of survivors of sexual assault and abuse, and provide specialized treatment interventions. Hope Harbor is a non-profit crisis counseling center that provides one-of-a-kind services to victims of sexual assault and their families and friends.
These services are available to residents in Allen, Barren, Butler, Edmonson, Hart, Logan, Metcalfe, Monroe, Simpson, and Warren Counties in Kentucky. The main office is in Bowling Green with satellite offices for additional counseling services located in Glasgow, Franklin, and Russellville.
Video: Hope Harbor, Who We Are by Sublime Media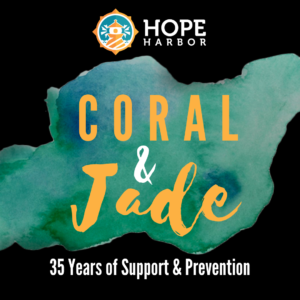 In 1985, two survivors got together to offer free, confidential services to survivors of sexual assault. With a 24/7 crisis support line and emergency advocacy, volunteers created Rape Crisis and Prevention Center. Fast forward, they got a building of their own at 913 Broadway Ave and changed the name to Hope Harbor, the services expanded to providing counseling, legal advocacy, and community education programs. We are reminded every day the need for the free services provided by Hope Harbor to survivors of sexual assault, their loved ones, and our community at large. Starting this September, we ask for your continued support in our work to offer help and end sexual violence. It is only because of a community that will not accept violence as the norm that we are able to keep up with the demand for our services.
Please support us for our 35th anniversary by donating Coral & Jade: Hope Harbor 35th Anniversary
---
---
Locations
Bowling Green

913 Broadway Avenue
Bowling Green, KY 42101 (270) 782-5014

Glasgow

134 North Race Street
Glasgow, KY 42141 (270) 659-3033

Russellville

252 North Main Street
Russellville, KY 42276 (270) 221-8880

Franklin

1112 South Main Street, Suite 3
Franklin, KY 42134 (270) 598-1800