Get Involved » Sexual Assault Prevention Month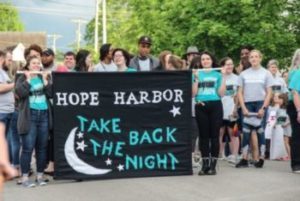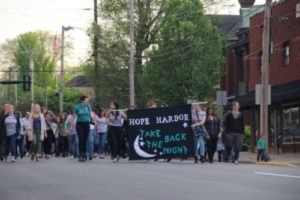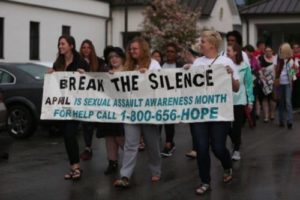 Sexual assault and abuse is an epidemic that affects individuals and our community much more than most people realize.  Hope Harbor provides awareness and prevention programs throughout the year, but there is a concentration of events planned by Hope Harbor staff and community partners during April, Sexual Assault Prevention Month (SAPM).
Our largest annual event is our march and rally, Take Back the Night. TBTN is celebrated across the globe and Hope Harbor has been hosting Bowling Green's since the 90s. We come together as a community to unite against violence and support survivors.
Western Kentucky University and Southcentral Kentucky Community and Technical College are our main collaborators during SAPM. We partner on awareness events to involve the campus community in our mission and share information about services and rights of survivors.
Other reoccurring events include First Things First (performative poetry), Nacho Fault (awareness discussion), WKU SAPM Kick Off and Proclamation Signing, benefit nights at local restaurants, and Celebration of Women Art Gallery with Art Matters, Community Art Studio.
If you would like to learn more or find out how to be involved in the Sexual Assault Prevention Month Planning Committee, please reach out to educator@hopeharbor.net . Please visit our calendar of events to stay up to date.